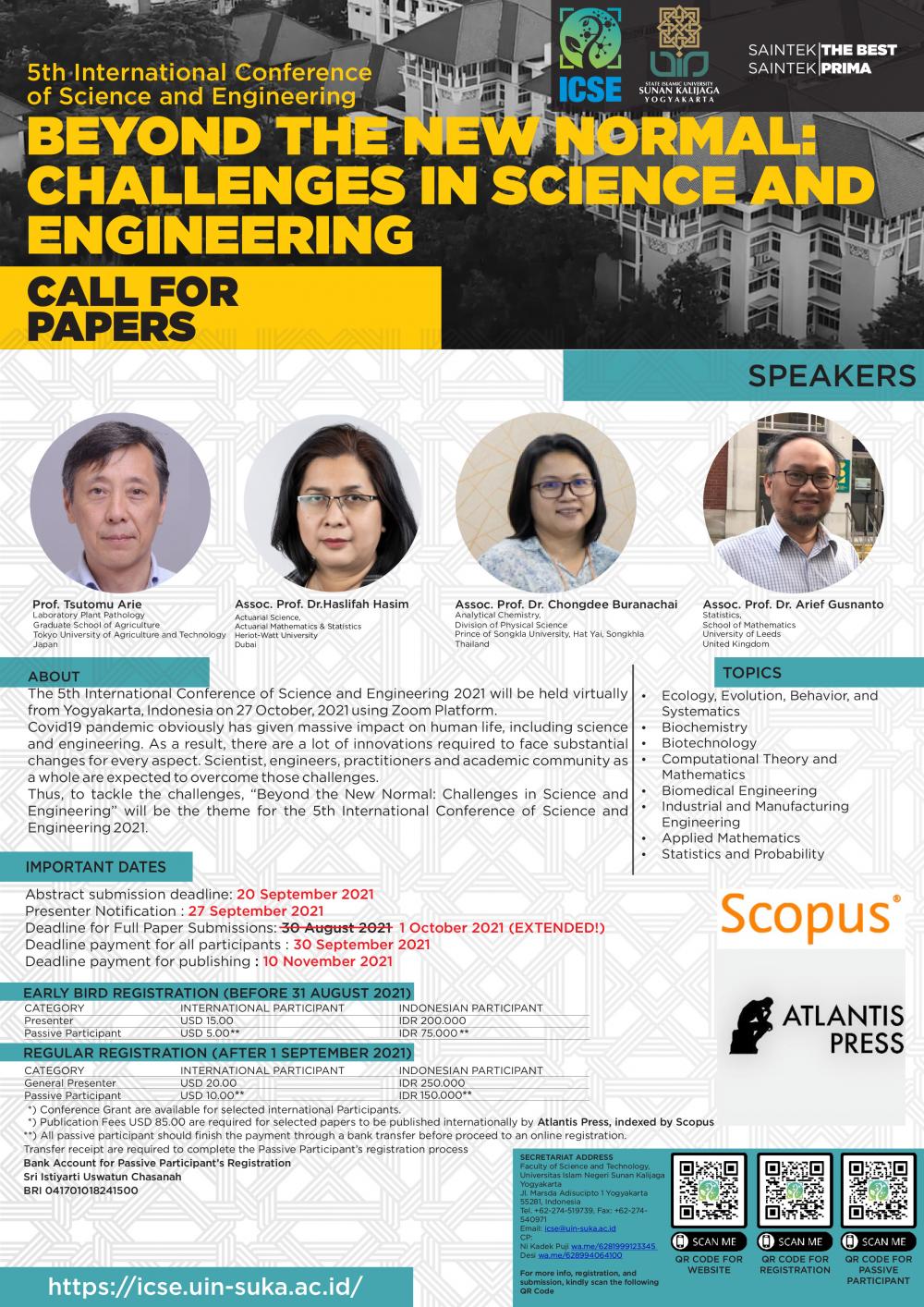 [EXTENDED SUBMISSION]
Good Morning Ladies and Gentlemen,
Faculty of Science and Technology Sunan Kalijaga State Islamic University is delighted to announce the 5th International Conference on Science and Engineering (ICSE 2021). The conference will be held virtually on October 27th 2021. "Beyond the New Normal: Challenges in Science and Engineering" will be the theme for the 5th International Conference on Technology and Engineering 2021.
Abstract submission deadline: September 20th 2021
Presenter notification: September 27th 2021
Deadline full paper extended to Oct 1st 2021
Deadline payment for all participants: September 30th 2021
Deadline payment to publish: November 10th 2021
Speakers:
1. Prof. Tsutomu Arie, Plant Pathology
Tokyo University of Agriculture and Technology, Japan
2. Assoc. Prof. Dr. Chongdee Buranachai, Analytical Chemistry
Division of Physical Science, Faculty of Science,Prince of Songkla University, Hat Yai, Songkhla
3. Assoc. Prof. Dr. Haslifah Hasim, Actuarial Science
Associate Professor of Actuarial Mathematics & Statistics, Heriot-Watt University Dubai
4. Assoc. Prof. Dr. Arief Gusnanto, Statistics
University of Leeds, UK
Topics:
1. Ecology, evolution, behaviour and systematic
2. Bio-chemistry
3. Biotechnology
4. Computational theory and Mathematics
5. Biomedical engineering
6. Industrial and Manufacturing Engineering
7. Applied Mathematics
8. Statistics and probability
Selected papers will be published in Atlantis Press Proceedings (Scopus Indexed). More detailed information can be found on the conference website:
https://icse.uin-suka.ac.id/
The brochure of the Call for Papers is attached, please feel free to distribute this brochure and information to your colleagues and any others contact who might consider participating in this event.
We are looking forward to your participation in this event. For further information and assistance, please contact:
Ni Kadek Puji: wa.me/628994064100
Desi: wa.me/628994064100
Email: icse@uin-suka.ac.id
Warm Regards,
The 5th ICSE Committee